Available in two variants: the NCP 80 suitable for any type of mold and the NCP 80M specially designed for seaming.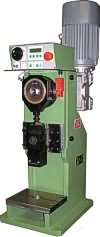 NCP 80
The NCP 80 is suitable for any type of mold and has a base plate screwed with "T" slots for clamping blocks.
The NCP 30 press features, as standard, a "T" type upper connection and a "three-tooth universal" lower clamping base.
With this type of attachment it is possible to install all types of Mini-applicators. The envisaged electrical equipment allows it to be used as a pressing module in various types of systems.
All the presses are designed for the installation of a pneumatic safety mobile screen. On-board electronic equipment with liquid crystal display to set: normal cycle, two-stroke, jog, reverse gear.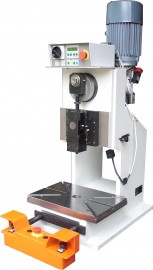 NCP 80M per aggraffatura
Appositamente ideate per l'aggraffatura; le presse NCP 80M di serie dispongono di un attacco superiore di tipo a "T" e di una basetta di staffaggio inferiore di tipo "universale a tre denti". Con questo tipo di attacco e con una altezza al punto morto inferiore pari a 135,8 mm, la pressetta NCP 80M è in grado di alloggiare tutti i mini-applicatori. È inoltre previsto un supporto per bobine. L'apparecchiatura elettrica delle pressette Giani ne permette l'utilizzo come moduli di pressatura all'interno di vari tipi d'impianto. Inoltre, esse sono fornite con predisposizione per l'istallazione di uno schermo mobile di sicurezza pneumatico. Apparecchiatura elettronica a bordo macchina con schermo a cristalli liquidi per impostare: ciclo normale, in due tempi, marcia ad impulsi, inversione di marcia.
Technical data NCP 80 of 8 tons
NCP 80
NCP 80M
KW engine
3
3
Maximum force kN
80
80
Fixed stroke mm
40 (*)
40 (*)
Variable travels mm
3 pos.
40 – 50 – 60
N.D
Weight kg
230
200
Supply
3×230-400 V 50-60 Hz
3×230-400 V 50-60 Hz
Maximum copper cable section mm²
35
35
Width mm
400
290
Length mm
550
460
Height mm
1160
1030
(*) Available different strokes on request (maximum 50 mm)
Some images of the NCP80 8 ton
Case history: troubleshooting
In this section, We take part in our successes by telling you how we have analyzed in a more specific way the characteristics of some projects, finding new technological solutions to improve products and production processes and trying to make it clear what is good or not good of that determined project.
Case history: bearing assembly