Cutter for paper and cardboard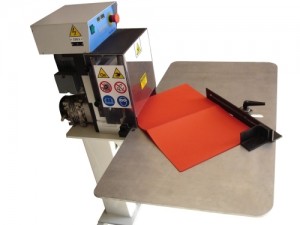 Silent angling machines  for paper and cardboard to cut and round corners of materials such as paper and cardboard, quickly and accurately. Steel blades for easy maintenance and replacement.
The angle machine is normally used for angular cutting (straight or radius), with shaped knives , of sheets mainly produced with material of: paper, cardboard, plastic materials, compounds and derivatives.
The GIANI PRESSE angle machine has an electro-welded steel structure protected with epoxy paint. The oversized geared motor controls an eccentric shaft supported by roller bearings. The angle machine is very silent and easy to maintain because it is designed with modular criteria. </ P>
The braking is electronic with inverter, and the motor in resting phase is stopped. The electronic equipment with microprocessor control is mounted on board the machine. A liquid crystal display allows you to control all operations both during programming and during work. The machine drive is supplied with bi-manual simultaneity control that complies with safety regulations. The support surface is supplied as needed, it can be made of melamine or aluminum. In the aluminum version it is possible to apply registers for the positioning of the product. It is also possible to make two-head angle shafts. The safety of the operator is protected by a safety micro-switch which prevents the machine from starting if the front guard is removed, under which the motion mechanisms are located. In the AGPTS range, the version with speed variator is available, placed on the front of the equipment, in case the characteristics of the material require specific cutting speeds. Our angle units, moreover, are mounted on a base equipped with rear wheels, which facilitate the movement and adjustable in height, to allow the operator to work in the best conditions.
Technical data cutterfor paper, cardboard and plastic materials
AGPTS
AGPTS
Motor kW
0.75
0.75
Power work kN
12
20
Corsa mm
60 (*)
60 (**)
Weight kg
95
95
Power
230V
380V
log size mm
1000x900x1350÷1550
1000x900x1350÷1550
* Working stroke mm 30/35 mm** Working stroke mm 40/45 mm