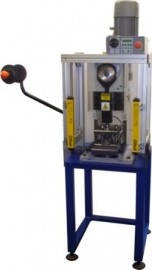 The NCP 100 series presses are suitable for any type of mold and can be equipped with a load cell for controlling the applied power.
On request, the presses can be equipped with photo-electric barriers that allow manual loading directly in the work area. Furthermore, always on request, a mobile pneumatic safety guard can be mounted.
The electrical equipment allows its use as a pressing module in various types of systems. On-board electronic equipment with liquid crystal display to set: normal cycle, two-stroke, jog, reverse gear.
TECHNICAL DATA NCP 100 da 10 ton
Motore kW
4
Forza massima kN
100
Corsa fissa mm
40 (*)
Corse variabili mm
3 pos.
40 – 50 – 60 (*)
Peso Kg
280
Alimentazione
3×230-400 V 50-60 Hz
Sez. max cavo rame mm²
50
Larghezza mm
400
Lunghezza mm
500
Altezza mm
1160
(*) Disponibili corse diverse a richiesta (max 50 mm).
Some images of the 10 ton NCP 100
Case history: troubleshooting
In this section we take part in our successes by telling you how we have analyzed in a more specific way the characteristics of some projects, finding new technological solutions to improve products and production processes and trying to make it clear what went well and what went wrong of that determined project.
Case history: application